Directive, Facility Fires and Related Emergencies, NY DOC, 2014
Download original document: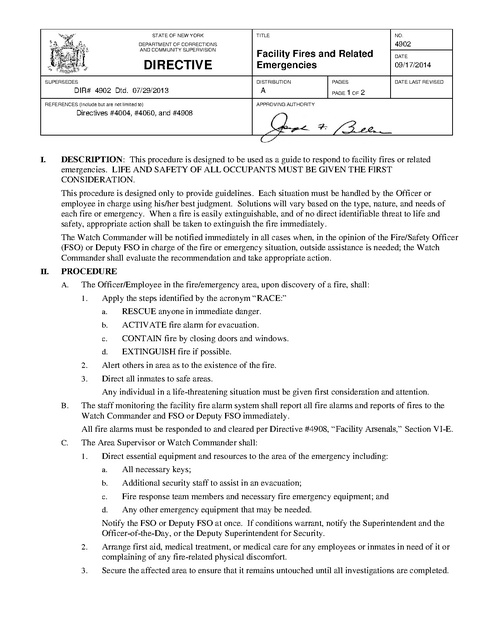 Document text
This text is machine-read, and may contain errors. Check the
original document
to verify accuracy.
STATE OF NEW YORK
DEPARTMENT OF CORRECTIONS
AND COMMUNITY SUPERVISION

DIRECTIVE
SUPERSEDES

TITLE

4902

Facility Fires and Related
Emergencies
DISTRIBUTION

DIR# 4902 Dtd. 07/29/2013
REFERENCES (Include but are not limited to)

NO.

A

PAGES
PAGE 1 OF

DATE

09/17/2014
DATE LAST REVISED

2

APPROVING AUTHORITY

Directives #4004, #4060, and #4908

I.

DESCRIPTION: This procedure is designed to be used as a guide to respond to facility fires or related
emergencies. LIFE AND SAFETY OF ALL OCCUPANTS MUST BE GIVEN THE FIRST
CONSIDERATION.
This procedure is designed only to provide guidelines. Each situation must be handled by the Officer or
employee in charge using his/her best judgment. Solutions will vary based on the type, nature, and needs of
each fire or emergency. When a fire is easily extinguishable, and of no direct identifiable threat to life and
safety, appropriate action shall be taken to extinguish the fire immediately.
The Watch Commander will be notified immediately in all cases when, in the opinion of the Fire/Safety Officer
(FSO) or Deputy FSO in charge of the fire or emergency situation, outside assistance is needed; the Watch
Commander shall evaluate the recommendation and take appropriate action.

II.

PROCEDURE
A.
The Officer/Employee in the fire/emergency area, upon discovery of a fire, shall:
1.

Apply the steps identified by the acronym "RACE:"
a.

RESCUE anyone in immediate danger.

b.

ACTIVATE fire alarm for evacuation.

c.

CONTAIN fire by closing doors and windows.

d.

EXTINGUISH fire if possible.

2.

Alert others in area as to the existence of the fire.

3.

Direct all inmates to safe areas.
Any individual in a life-threatening situation must be given first consideration and attention.

B.

The staff monitoring the facility fire alarm system shall report all fire alarms and reports of fires to the
Watch Commander and FSO or Deputy FSO immediately.
All fire alarms must be responded to and cleared per Directive #4908, "Facility Arsenals," Section VI-E.

C.

The Area Supervisor or Watch Commander shall:
1.

Direct essential equipment and resources to the area of the emergency including:
a.

All necessary keys;

b.

Additional security staff to assist in an evacuation;

c.

Fire response team members and necessary fire emergency equipment; and

Any other emergency equipment that may be needed.
Notify the FSO or Deputy FSO at once. If conditions warrant, notify the Superintendent and the
Officer-of-the-Day, or the Deputy Superintendent for Security.
d.

2.

Arrange first aid, medical treatment, or medical care for any employees or inmates in need of it or
complaining of any fire-related physical discomfort.

3.

Secure the affected area to ensure that it remains untouched until all investigations are completed.

NO.

4902, Facility Fires and Related Emergencies

DATE 09/17/2014

D.

PAGE 2 of 2

4.

Ensure that the Communications Control Center is notified as required by Directive #4004,
"Unusual Incident Report."

5.

Ensure that the FSO has received necessary reports for all facility-related fires.

The FSO or Deputy FSO as applicable shall:
1.

Upon arrival, evaluate the situation and if it is deemed that additional firefighting help is needed,
recommend necessary action to the Watch Commander.

2.

Take charge of extinguishment if necessary, and in accordance with procedures set forth in
Directive #4060, "Facility Fire Prevention," Section III-D, or until an outside fire chief arrives.

3.

Whenever a local fire department has been called, act as liaison between the facility and the local
fire department.

4.

After the fire has been extinguished and the fire scene has been secured and investigated, authorize
re-entry, when appropriate, if the area had been evacuated previously.

5.

Complete Form #1598, "Report of Fire," and the "New York State Fire Reporting System" form
after the fire is extinguished. If the fire is in an inmate's cell, cube, or room, indicate the name(s)
and DIN(s) on the report. Retention period for Form #1598 and the "New York State Fire
Reporting System" form is five years.