Letter to Bill Gates urging the Gates Foundation Trust to divest in GEO Group, Presente, 2014
Download original document: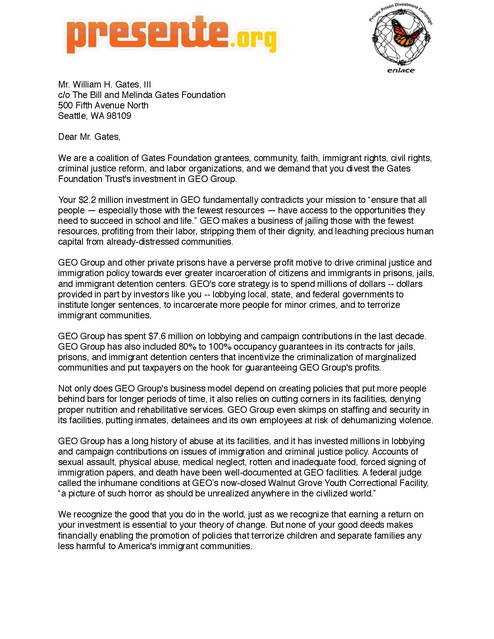 Document text
This text is machine-read, and may contain errors. Check the
original document
to verify accuracy.
!

!

Mr. William H. Gates, III!
c/o The Bill and Melinda Gates Foundation!
500 Fifth Avenue North!
Seattle, WA 98109!

!
Dear Mr. Gates,!
!

We are a coalition of Gates Foundation grantees, community, faith, immigrant rights, civil rights,
criminal justice reform, and labor organizations, and we demand that you divest the Gates
Foundation Trust's investment in GEO Group. !

!

Your $2.2 million investment in GEO fundamentally contradicts your mission to "ensure that all
people — especially those with the fewest resources — have access to the opportunities they
need to succeed in school and life." GEO makes a business of jailing those with the fewest
resources, profiting from their labor, stripping them of their dignity, and leaching precious human
capital from already-distressed communities. !

!

GEO Group and other private prisons have a perverse profit motive to drive criminal justice and
immigration policy towards ever greater incarceration of citizens and immigrants in prisons, jails,
and immigrant detention centers. GEO's core strategy is to spend millions of dollars -- dollars
provided in part by investors like you -- lobbying local, state, and federal governments to
institute longer sentences, to incarcerate more people for minor crimes, and to terrorize
immigrant communities.!

!

GEO Group has spent $7.6 million on lobbying and campaign contributions in the last decade.
GEO Group has also included 80% to 100% occupancy guarantees in its contracts for jails,
prisons, and immigrant detention centers that incentivize the criminalization of marginalized
communities and put taxpayers on the hook for guaranteeing GEO Group's profits. !

!

Not only does GEO Group's business model depend on creating policies that put more people
behind bars for longer periods of time, it also relies on cutting corners in its facilities, denying
proper nutrition and rehabilitative services. GEO Group even skimps on staffing and security in
its facilities, putting inmates, detainees and its own employees at risk of dehumanizing violence.!

!

GEO Group has a long history of abuse at its facilities, and it has invested millions in lobbying
and campaign contributions on issues of immigration and criminal justice policy. Accounts of
sexual assault, physical abuse, medical neglect, rotten and inadequate food, forced signing of
immigration papers, and death have been well-documented at GEO facilities. A federal judge
called the inhumane conditions at GEO's now-closed Walnut Grove Youth Correctional Facility,
"a picture of such horror as should be unrealized anywhere in the civilized world." !

!

We recognize the good that you do in the world, just as we recognize that earning a return on
your investment is essential to your theory of change. But none of your good deeds makes
financially enabling the promotion of policies that terrorize children and separate families any
less harmful to America's immigrant communities. !

!

Many of the families and communities that we represent bear the brunt of private prison
corporations' preying on poor and minority communities every day. On their behalf, we call on
you to act consistently with your professed mission. We urge you to immediately stop supporting
an industry that profits off the exploitation of poverty and racism by our nation's broken criminal
justice and immigration systems. We request a response within a week of the receipt of this
letter, at which point we intend to take our concerns to the broader public.!

!
Sincerely,!
!

African Services Committee!
Border Network for Human Rights!
Casa Latina (Seattle)!
El Comité Pro-Reforma Migratoria y Justicia Social (Seattle)!
Detention Watch Network!
Enlace!
Families for Freedom!
Grassroots Leadership!
Human Rights Defense Center!
National Network for Immigrant and Refugee Rights!
Presente.org!
Private Corrections Institute!
Responsible Endowments Coalition!
Rights for All People!
National Alliance of Latin American and Caribbean Communities (NALACC)!
Northern Manhattan Coalition for Immigrant Rights!
In the Public Interest!
Community Initiatives for Visiting Immigrants in Confinement (CIVIC)!
Southwest Workers Union!
Coalition for Humane Immigrant Rights of Los Angeles (CHIRLA)!
Council of Mexican Federations (COFEM)!
Oregon Dream Activist!
Colectiva Legal del Pueblo!
USAS!
Florida Immigrant Coalition (FLIC)!
National People's Action!

!