Or Prison Phones History of Payphone Contract 1996-2005
Download original document: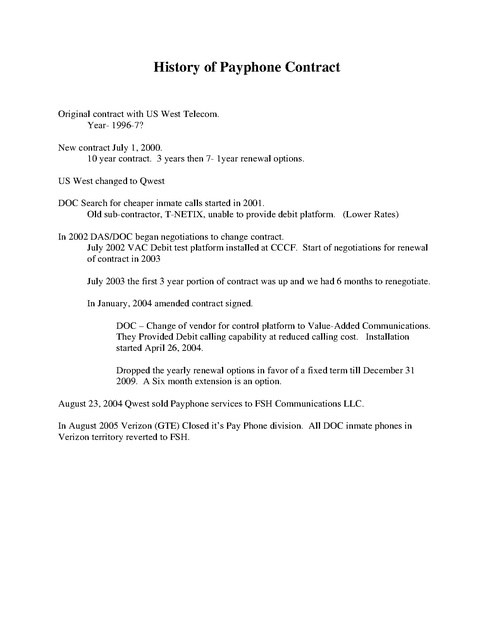 Document text
This text is machine-read, and may contain errors. Check the
original document
to verify accuracy.
History of Payphone Contract
Original contract with US West Telecom.
Year- 1996-7?
New contract July 1, 2000.
10 year contract. 3 years then 7- 1year renewal options.
US West changed to Qwest
DOC Search for cheaper inmate calls started in 2001.
Old sub-contractor, T-NETIX, unable to provide debit platform. (Lower Rates)
In 2002 DAS/DOC began negotiations to change contract.
July 2002 VAC Debit test platform installed at CCCF. Start of negotiations for renewal
of contract in 2003
July 2003 the first 3 year portion of contract was up and we had 6 months to renegotiate.
In January, 2004 amended contract signed.
DOC – Change of vendor for control platform to Value-Added Communications.
They Provided Debit calling capability at reduced calling cost. Installation
started April 26, 2004.
Dropped the yearly renewal options in favor of a fixed term till December 31
2009. A Six month extension is an option.
August 23, 2004 Qwest sold Payphone services to FSH Communications LLC.
In August 2005 Verizon (GTE) Closed it's Pay Phone division. All DOC inmate phones in
Verizon territory reverted to FSH.