Taser Information, Chandler PD AZ
Download original document: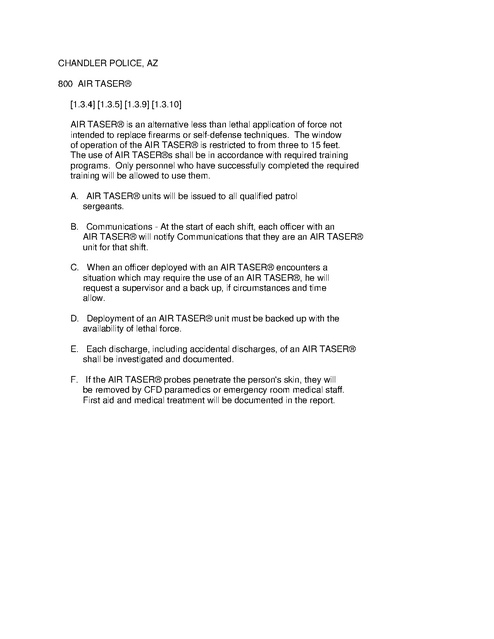 Document text
This text is machine-read, and may contain errors. Check the
original document
to verify accuracy.
CHANDLER POLICE, AZ
800 AIR TASER®
[1.3.4] [1.3.5] [1.3.9] [1.3.10]
AIR TASER® is an alternative less than lethal application of force not
intended to replace firearms or self-defense techniques. The window
of operation of the AIR TASER® is restricted to from three to 15 feet.
The use of AIR TASER®s shall be in accordance with required training
programs. Only personnel who have successfully completed the required
training will be allowed to use them.
A. AIR TASER® units will be issued to all qualified patrol
sergeants.
B. Communications - At the start of each shift, each officer with an
AIR TASER® will notify Communications that they are an AIR TASER®
unit for that shift.
C. When an officer deployed with an AIR TASER® encounters a
situation which may require the use of an AIR TASER®, he will
request a supervisor and a back up, if circumstances and time
allow.
D. Deployment of an AIR TASER® unit must be backed up with the
availability of lethal force.
E. Each discharge, including accidental discharges, of an AIR TASER®
shall be investigated and documented.
F. If the AIR TASER® probes penetrate the person's skin, they will
be removed by CFD paramedics or emergency room medical staff.
First aid and medical treatment will be documented in the report.