Tn Doc Internal Affairs Operational Procedures 2008
Download original document: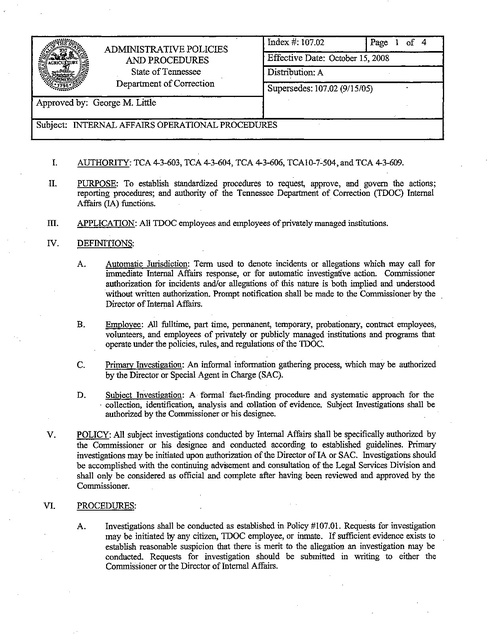 Document text
This text is machine-read, and may contain errors. Check the
original document
to verify accuracy.
ADMINISTRATNEPOLICIES
AND PROCEDURES
State of Tennessee
Department of Correction

Index #: 107.02

Page 1 of 4

Effective Date: October 15, 2008
Distribution: A
Supersedes: 107.02 (9/15/05)

Approved by: George M. Little
Subject: INTERNAL AFFAIRS OPERATIONAL PROCEDURES

I.

AUTHORITY: TCA 4-3-603, TCA 4-3-604, TCA 4-3-606, TCAI0-7~504, and TCA 4-3-609.

U.

PURPOSE: To establish standardized procedures to request, approve, and govern the actions;
reporting procedures; and authority of the Tennessee Department of Correction (IDOC) Internal
Affairs (IA) functions.

III.

APPLICATION: All IDOC employees and employees of privately managed institutions.

IV.

DEFINITIONS:

V.

VI.

A.

Automatic Jurisdiction: Term used to denote incidents or allegations which may call for
immediate Internal Affairs response, or for automatic investigative action. Commissioner
authorization for incidents and/or allegations of this nature is both implied and understood
without written authorization. Prompt notification shall be made to the Commissioner by the
Director of Internal Affairs.

B.

Employee: All fulltime, part time, permanent, temporary, probationary, contract employees,
volunteers, and employees of privately or publicly managed institutions and programs that
operate under the policies, rules, and regulations of the IDOC.

C.

Primary Investigation: An informal information gathering process, which may be authorized
by the Director or Special Agent in Charge (SAC).

D.

Subject Investigation: A formal fact-finding procedure and systematic approach for the
. collection, identification, analysis and rollation of evidence. Subject Investigations shall be
authorized by the Commissioner or his designee.

POLICY: All subject investigations conducted by Internal Affairs shall be specifically authorized by
the Commissioner or his designee and conducted according to established guidelines. Primary
investigations may be initiated upon authorization of the Director of IA or SAC. Investigations should
be accomplished with the continuing advic;ement and consultation of the Legal Services Division and
shall only be considered as official and complete after having been reviewed and approved by the
Commissioner.
PROCEDURES:
A.

Investigations shall be conducted as established in Policy # I07.01. Requests for investigation
may be initiated ~ any citizen, IDOC employee, or inmate. If sufficient evidence exists to
establish reasonable suspicion that there is merit to the allegation an investigation may be
conducted. Requests for investigation should be submitted in writing to either the
Commissioner or the Director of Internal Affairs.

Effective Date: October 15, 2008

I

Index # 107.02

2

of

4

Subject: INTERNAL AFFAIRS OPERATIONAL PROCEDURES

B.

The Director of Internal Affairs shall have the authority to initiate investigations without
written authorization in matters of ''automatic jurisdiction". Once initiated, prompt notification
will be made to the Commissioner by the Director of IA. Automatic j.ni.sdiction shall be
maintained in the following incidents or allegations:

1.
2.
3.
4.
5.
6.
7.

Unattended death
Escape
Court ordered executions
Rape or Prison Rape Elimination Act (PREA) related allegations
Hostage situation
Discharge of a firearm (injury involved)
megal drugs or narcotics introduction

C.

Wardens shall submit requests for investigative assistance by submitting the information on
Request for Investigative Assistance, CR-3639, to the Assistant Commissioner of Operations
who will review and make recommendations to the Commissioner as to a course of action.
Requests may also be initiated based on verbal information when a written request is not
feasible. The inforniation should clearly identify the issues or allegations· involved.
Information received from an anonymous source shall be evaluated for validity and its
potential for investigation. Once approved the CR-3639 shall become a permanent part of the
dnvestigative case file.

D.

Investigations, once authorized, will be conducted in a timely and efficient manner.

E.

1.

A primary investigation should be completed in a period of 10-15 days. Upon
completion, m1 appropriate report shall be submitted on the IA Computer- Database
program to the Director for review and appropriate action. Any information which
could have an administrative impact on the facility shall be shared with the respective
Warden. No portions ofIA files will be permanently maintained at the facilities.

2.

Once initiated, a subject investigation should be completed within a period of 45-60
days. Once completed, a report will be prepared utilizing the IA computer database
summarizing the results of the investigation to include the agent's conclusions. In all
administrative cases the affected Warden shall be fully briefed on the information
obtained and upon approval of the case file by. the Commissioner, the agent shall
provide the Warden the entire file for review as appropriate. In those cases where
additional time may be required to complete an investigation and report; a reasonable
extension may be granted upon written approval by the Director of IA.

Special agent reports (SARs) will be completed for each investigation conducted upon the
.
completion of the investigation.
1.

SARs shall be prepared in accordance to the format specified by the Director of IA.

2.

The SARs and evidence gathered to prepare the SARs shall·be handled in a confidential
manner.

I

Index # 107.02

Effective Date: October 15,2008

3

of

4

Subject: INTERNAL AFFAIRS OPERATIONAL PROCEDURES

F.

VII.
VIII.

3.'

SARs shall be submitted to the approving authority within 10 working days of the close
of the investigation.

4.

The Commissioner must approve all reports before they are considered complete.

5.

The Director oflA shall maintain the original SARs after approval, in the IA archive.

6.

SARs that are mailed should be sealed in a separate envelope marked confidential and
addressed to the intended recipient. The envelope in which the sealed confidential
envelope is mailed should be addressed normally and not marked confidential.

.7.

Upon approval of the SAR by the Commissioner, the Warden of the affected institution
will be promptly notified and the Case file made available for his/her review.

SARs shall remain confidential and will only be disclosed to those authorized.
1.

No one shall be permitted to remove or copy SARs or documents, except as designated
by the Tennessee Code Annotated. Former IA agents or Wardens who need to review
investigative files for court actions or other official reasons will coordinate such
activities with the Director of IA., Every attempt will be made to facilitate information
sharing with Wardens in administrative matters.

2.

The Commissioner, Director of IA and/or Special Agents shall provide copies of files
to the prosecuting attorney and/or department legal staff as requested. The requesting
office will sign for custody and control of the file, shall make no copies unless
appropriately documented and shall protect the file until its return to the IA file
depository.

3.

The Commissioner is the approving authority for the release of investigative files
outside the Department subject to review by TDOC General Counsel.

G.

Additional assisul.nce from the IA Unit may be requested at any time by contacting the
Director of IA or SAC.

H.

Upon request, all employees shall fully cooperate with IA agents conducting an authorized
investigation, including but not limited to participating in interviews and providing truthful
testimony. Failure to do so will constitute insubordination and shall result in disciplinary
action, up to and including termination. Administrative Warning, CR-3640, shall be utilized
by agents to document this action.

I.

IA agent operation shall be governed by this policy and IA operational protocols approved by
the Commissioner.

ACA STANDARDS:

None.

EXPIRAnON DATE: October 15, 2011.