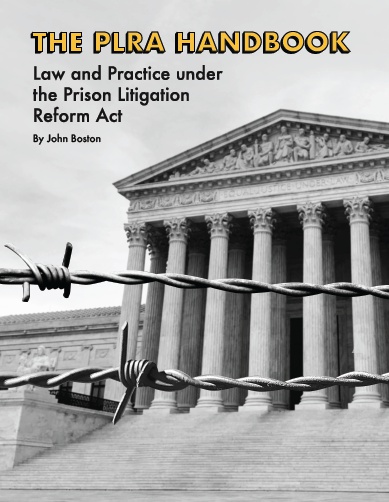 The PLRA Handbook: Law and Practice Under the Prison Litigation Reform Act
$224.99
This is pricing for professionals (lawyers, prison libraries, law firms, etc.). Please click this link for prisoners' pricing.
576 Pages
ISBN: 979-8-9854138-0-9
By John Boston
The PLRA Handbook is the best and most thorough guide to the PLRA in existence and provides an invaluable roadmap to all the complexities and absurdities it raises to keep prisoners from getting rulings and relief on the merits of their cases. The goal of this book is to provide the knowledge prisoners' lawyers – and prisoners, if they don't have a lawyer – need to quickly understand the relevant law and effectively argue their claims.
Anyone involved in federal court prison and jail litigation needs The PLRA Handbook – lawyers, judges, court staff, academics, and especially, pro se litigants.
Although the PLRA Handbook is intended primarily for litigators contending with the barriers the PLRA throws up to obtaining justice for prisoners, it'll be of interest and informative for anyone wishing to learn how the PLRA has been applied by the courts and how it has impacted the administration of justice for prisoners. It is based primarily on an exhaustive review of PLRA case law and contains extensive citations.
John Boston is best known to prisoners around the country as the author, with Daniel E. Manville, of the Prisoners' Self-Help Litigation Manual – commonly known as the "bible" for jailhouse lawyers and lawyers who litigate prison and jail cases. He is widely regarded as the foremost authority on the PLRA in the nation.
"If prisoners will review The PLRA Handbook prior to filing their lawsuits, it is likely that numerous cases that are routinely dismissed will survive dismissal for failure to exhaust."
— Daniel E. Manville, Director, Civil Rights Clinic