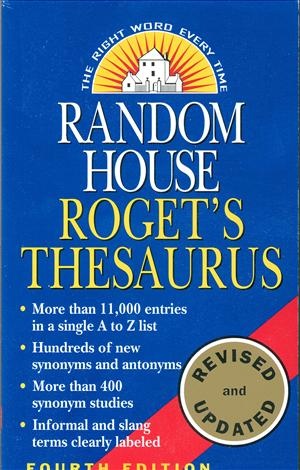 Roget's Thesaurus
$9.95
709 pages.
Ballantine (2001).

This is an authoritative, comprehensive, and easy-to-use thesaurus favored by writers and students alike.

* One simple alphabetical listing * More than 11,000 main entries * More than 200,000 synonyms and antonyms * Sample sentences for every main entry * Parts of speech shown for every main entry, synonym, and antonym * Extensive coverage of all levels of vocabulary and usage, with informal and slang words identified * Edited and designed for easy access * All entries edited to help in vocabulary building

The Random House imprint has long stood for excellence in the reference field. Random House reference books--prepared by its permanent lexicographic staff with the assistance of many hundreds of scholars, educators, and specialists--have been widely acclaimed for their outstanding quality and usefulness.
ISBN-10: 0345447263
ISBN-13: 978-0345447265