Fbop Scr Monthly Report 1992nov
Download original document: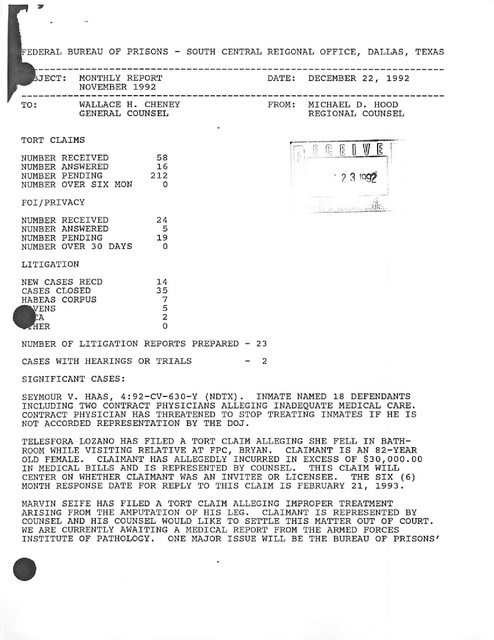 Document text
This text is machine-read, and may contain errors. Check the
original document
to verify accuracy.
BUREAU OF PRISONS - SOUTH CENTRAL REIGONAL OFFICE, DALLAS, TEXAS
MONTHLY REPORT
NOVEMBER 1992

DATE:

DECEMBER 22, 1992

WALLACE H. CHENEY
GENERAL COUNSEL

FROM:

MICHAEL D. HOOD
REGIONAL COUNSEL

TORT CLAIMS
NUMBER
NUMBER
NUMBER
NUMBER

RECEIVED
ANSWERED
PENDING
OVER SIX MON

r. r·--.
rs r~ ~ nw~
,r
It·,
._1

58

16
212

RECEIVED
ANSWERED
PENDING
OVER 30 DAYS

I'
I

n l~ '

o

,,:;

FOI/PRIVACY
NUMBER
NUNBER
NUMBER
NUMBER

I'

1 •• '-

" 1 .'

l. .•

' .•

\J Ju t~;:;

24
5
19
0

LITIGATION
NEW CASES RECD
CASES CLOSED
HABEAS CORPUS

14
35
7
5
2

o

NUMBER OF LITIGATION REPORTS PREPARED - 23
CASES WITH HEARINGS OR TRIALS

2

SIGNIFICANT CASES:
SEYMOUR V. HAAS, 4:92-CV-630-Y (NDTX). INMATE NAMED 18 DEFENDANTS
INCLUDING TWO CONTRACT PHYSICIANS ALLEGING INADEQUATE MEDICAL CARE.
CONTRACT PHYSICIAN HAS THREATENED TO STOP TREATING INMATES IF HE IS
NOT ACCORDED REPRESENTATION BY THE DOJ.
TELESFORA · LOZANO HAS FILED A TORT CLAIM ALLEGING SHE FELL IN BATHROOM WHILE VISITING RELATIVE AT FPC, BRYAN. CLAIMANT IS AN 82-YEAR
OLD FEMALE. CLAIMANT HAS ALLEGEDLY INCURRED IN EXCESS OF $30,000.00
IN MEDICAL BILLS AND IS REPRESENTED BY COUNSEL. THIS CLAIM WILL
CENTER ON WHETHER CLAIMANT WAS AN INVITEE OR LICENSEE.
THE SIX (6)
MONTH RESPONSE DATE FOR REPLY TO THIS CLAIM IS FEBRUARY 21, 1993.
MARVIN SEIFE HAS FILED A TORT CLAIM ALLEGING IMPROPER TREATMENT
ARISING FROM THE AMPUTATION OF HIS LEG. CLAIMANT IS REPRESENTED BY
COUNSEL AND HIS COUNSEL WOULD LIKE TO SETTLE THIS MATTER OUT OF COURT.
WE ARE CURRENTLY AWAITING A MEDICAL REPORT FROM THE ARMED FORCES
INSTITUTE OF PATHOLOGY.
ONE MAJOR ISSUE WILL BE THE BUREAU OF PRISONS'

~"
\

FOR THE ACTIONS OF ITS CONTRACT PHYSICIANS.
THE SIX
(6) MONTH RESPONSE DATE DEADLINE FOR THIS CLAIM IS FEBRUARY 28, 1993.

/~ESPONSIBILITY

V. KASTNER, GINGRAS V. QUINLAN, BETKA V. BROWN, AND LANGSTON V.
- ALL CARVILLE CASES CONSTRUED ALLEGING DISCRIMINATION AGAINST
INMATES, DENYING PLACEMENT IN HALFWAY HOUSES.
COURT
AS HABEAS. WE HAVE MAGISTRATE'S RECOMMENDATION IN OUR FAVOR
IN STIKES, AWAITING FINAL DECISION.
MANUEL V. BARR, A-92-CA-569-SS - AN EEO CASE INVOLVING A FEMALE STAFF
MEMBER WHO WAS TERMINATED FROM FCI, BASTROP IN 1984-85. THERE IS A
POSSIBLE LIABILITY ISSUE IN THIS CASE. HOWEVER, THE FEMALE STAFF
MEMBER IS NOT INTERESTED IN BEING REINSTATED EXCEPT TO RECEIVE BACK
PAY.