Hi Bill Re Doc Family Visits Passed 2006
Download original document: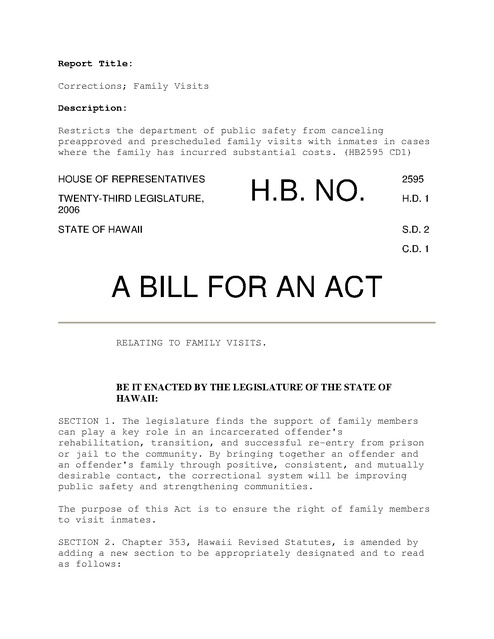 Document text
This text is machine-read, and may contain errors. Check the
original document
to verify accuracy.
Report Title:
Corrections; Family Visits
Description:
Restricts the department of public safety from canceling
preapproved and prescheduled family visits with inmates in cases
where the family has incurred substantial costs. (HB2595 CD1)
HOUSE OF REPRESENTATIVES
TWENTY-THIRD LEGISLATURE,
2006

H.B. NO.

STATE OF HAWAII

2595
H.D. 1
S.D. 2
C.D. 1

A BILL FOR AN ACT
RELATING TO FAMILY VISITS.

BE IT ENACTED BY THE LEGISLATURE OF THE STATE OF
HAWAII:
SECTION 1. The legislature finds the support of family members
can play a key role in an incarcerated offender's
rehabilitation, transition, and successful re-entry from prison
or jail to the community. By bringing together an offender and
an offender's family through positive, consistent, and mutually
desirable contact, the correctional system will be improving
public safety and strengthening communities.
The purpose of this Act is to ensure the right of family members
to visit inmates.
SECTION 2. Chapter 353, Hawaii Revised Statutes, is amended by
adding a new section to be appropriately designated and to read
as follows:

"§353Visits from family members. (a) Family members shall be
allowed to visit an inmate at any state correctional facility
during official visiting hours.
(b) A visit from a family member shall be preapproved and
prescheduled. Notwithstanding any other law to the contrary,
preapproved and prescheduled visits for which family members
have incurred substantial costs, including but not limited to
travel from a neighbor island or the mainland, shall not be
cancelled due to staff absenteeism or any non-emergency
situation.
(c) The department shall develop internal policies and
procedures consistent with this section.
(d) For the purposes of this section, "family members" means
persons who are related to each other by blood, marriage,
adoption, or legal guardianship, or as reciprocal
beneficiaries."
SECTION 3. New statutory material is underscored.
SECTION 4. This Act shall take effect on July 1, 2006.